Social media has found a place in the classrooms of
Chatham High School
.  With the growth of social platforms such as Twitter, Facebook, and Google +, schools have been seeking out best-practice approaches to utilizing these platforms with students. Mrs. Heather Rocco, Supervisor of Language Arts, recognized the value social media can have in the classroom. She introduced
Today's Meet
, a private micro-blogging platform, to her department.
Ms. Falkner
, a member of the English Department, was first to jump on board and integrate this tool in her classes. Recognizing the powerful impact that such tools have on instruction and the need to integrate them in a safe and effective way, Ms. Falkner worked with Mrs. Rocco to introduce this private micro-blogging tool in her classes.
The students in Ms. Falkner's AP English Language class have been utilizing Today's Meet to integrate Back Channeling in their classroom. 
Back Channeling
is the practice of using networked computers to maintain a real-time, online,conversation alongside live spoken remarks.
Today's Meet
is a free tool for developing  such a Back Channel. It allows teachers the opportunity to develop a private online forum for real-time discussions. Think of it as a private
Twitter
feed that is available to you and your students.  The service is free and does not require students to sign up or register to join the conversation.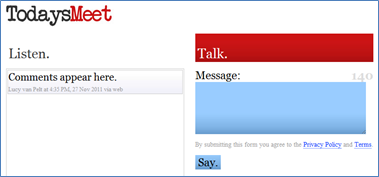 Today's Meet can be used in a variety of settings including presentations, workshops, movie viewing and class discussions. It encourages the room to use the live stream to make comments and ask questions . The feedback gathered can be used as a method to check for understanding, tailor your presentation, sharpen your points, and address audience needs. Ms. Falkner has been utilizing this tool to develop an active learning environment in her classroom. She is using Today's Meet as a tool to teach the skill of analyzing rhetorical strategies.
Ms. Falkner discusses how she uses Today's Meet below:
"My AP language students are very strong at identifying rhetorical strategies in a text, but they struggle to be able to articulate how a particular strategy functions or what effect it has in the text. In short, they struggle to analyze rhetorical strategies, but they can identify them with ease. In using Today's Meet while viewing a documentary, I'm attempting to separate out the two skills: students
identify
the strategies as they watch and note them in 140 characters, and then they work in small groups, after the film ends, to select a few of the strategies noted in the conversation and
analyze
how the strategies function and for what purpose(s)/to what effect(s). This division of "tasks" enables students to differentiate between what it means to identify and what it means to analyze.
The "backchannel" conversation also provides students a lens through which to view the film - they are watching each scene with the intention of identifying a strategy to "tweet" out to the class, so there's active viewing vs. passive viewing of the film text. The students are motivated to write thoughtful comments because they have an authentic audience of their peers (whose opinions are often far more valuable to them than that of their teacher!).
The activity requires that we teachers "let go" of our control of the lesson and turn the reigns over to the students to dictate the direction of the discussion following the film. With that said, I could always interject a "tweet" of my own if I felt that the students were missing a key rhetorical strategy in the film"
How have you used micro-blogging in your classroom? Please share your experiences by commenting on this posting.
Image Source:
Social Media Band Wagon:
http://serc.carleton.edu/sp/library/media/social_media.html
Today's Meet:
http://www.todaysmeet.com